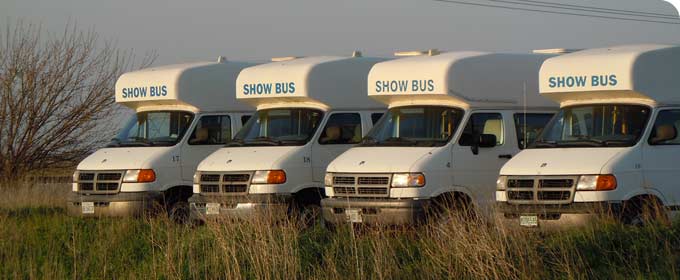 About SHOW BUS
SHOW BUS has been providing public transportation to residents of rural central Illinois since 1979. Our services are available to all residents of rural DeWitt, Ford, Iroquois, Kankakee, Livingston, Macon and McLean counties. People of all ages and income levels may ride. All buses are equipped with lifts for easy wheelchair access.
Mission Statement
We recognize that mobility is a fundamental right for our citizens and an essential need to maintain a high quality of life. We, at SHOW BUS, therefore, dedicate ourselves to provide safe, dependable, economical and courteous transportation options tailored to the unique needs and challenges of the communities and individuals we serve. Further, we will provide this service in a manner consistent with our stewardship of the communities' trust and resources.
History
SHOW BUS has been providing public transportation services in central Illinois since 1979. Growing out of a study project of the Senior Citizen's Advisory Council of McLean and Livingston Counties, SHOW BUS began serving seniors in those counties with two vehicles provided by grants from the Urban Mass Transit Administration. Originally, SHOW BUS was sponsored by Meadows Mennonite Retirement Community near Chenoa, IL, and that sponsorship continued until SHOW BUS became a separate entity in July, 2009. SHOW BUS has grown over the years and currently serves all of DeWitt, Ford, Iroquois, Livingston and the non-urbanized areas of Kankakee, Macon, and McLean Counties.
Funding
SHOW BUS services are made available by funding through the Illinois Department of Transportation (Federal Transit Act, as amended), the Downstate Operating Assistance Program and the following: East Central Illinois Area Agency on Aging, United Way and community funds, units of local government, churches, civic groups, businesses, individuals and passenger donations, fees and contracts.
Governance
SHOW BUS is governed by both an Advisory Council and Board. In addition, county based transportation committees made up of community partners provide critical input in the evaluation of transportation services and planning to meet the current and future needs of their areas. Both Kankakee County and McLean County, as federal and state funding grantees, provide critical technical support and oversight of the program.