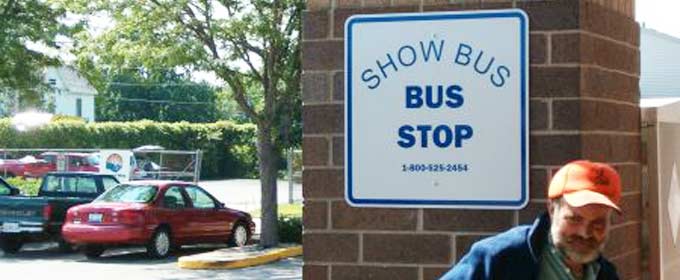 Riders Services
SHOW BUS provides transportation to all rural residents of DeWitt, Ford, Iroquois, Kankakee, Livingston, Macon, and McLean Counties. If you need a ride for any purpose: for a doctors appointment, grocery shopping or a Medicaid trip, we can help. Riding with us is easy, inexpensive, environmentally sustainable and safe.
Types of Services
Scheduled Routes
To reserve a seat on our scheduled routes, please contact us by 9 a.m. the weekday before you need the ride.
We have two types of scheduled routes: limited stop service and door to door service. For limited stop service, the schedule has specific pickup/dropoff locations indicated. For door to door service, the schedule has a general geographic area indicated. Please look over our scheduled routes to see if they meet your transportation need.
Special Service
Sometimes our scheduled routes don't fit your transportation need. For this reason we provide Special Routes that are made especially for you. Because of our limited resources, we have a limit on how many Special Service Routes we can provide, but we do everything we can to help get you where you need to go. Please contact us with as much notice as you can to see if we can help.
Non-Emergency Medical Transportation and Medicaid Transportation
SHOW BUS can assist you with non-emergency medical transportation including hospital discharges, Emergency Room discharges or medical appointments.
If you receive Medicaid benefits, there is no charge to you with prior approval from First Transit.
Contact us to check availability.
Call First Transit at 1-877-725-0569.  Requests must be made at least two business days prior to the trip. 
Give First Transit your information, including your medical card number.  Also give the date and time of the medical appointment and the name, address and phone number of your medical provider.
Tell the First Transit Operator that you will be riding with us, and the Operator will give you an Approval Number.
Call us back with the Approval Number, and we'll schedule the ride.
Frequently Asked Questions
Q: Who can ride?
A: Everyone can ride, we are Public Transportation.
Q: How do I get started?
A: It's easy, just give us a call.
Q: How much does a trip cost?
A: Prices for rides on our Scheduled Routes are listed on the County Pages. For Special Service prices, please call us.
Q: How do I pay?
A: To pay, bring your money with you on the bus. The driver will provide you with an envelope, and you can place it in the cash box. Drivers do not carry change.
Q: Can I bring bags?
A: Yes you can. Drivers will assist you with any reasonably sized bags.
Q: Can I use my Mobility Device?
A: Yes. All of our vehicles are equipped with ramps or lifts to assist you in getting where you need to go. Our drivers are trained in securing all commonly used mobility devices. Let us know what kind of device you are using when you schedule a trip.
Q: Can I have someone escort me?
A: Yes you can. All escorts ride free.
Q: Can my Service Animal come along?
A: Any Service Animal is welcome to ride for free. Please let us know in advance if you will be bringing one.
Q: How can I get involved?
A: There are many ways to get involved with SHOW BUS. You can ride with us, join one of our Advisory Committees or let us know when transportation needs are not being met. Together we can give mobility options to more people!